For more infromation, see Why LED in Agriculture, LED options, estimating emissions or policy and implementation.
Significance of Agriculture
Emissions Measurement & Accounting
Food Security & Diets
Yes, but the answer depends on the context of agriculture production. There are potential synergies or trade-offs in the changes in agricultural production needed to meet global food security. The trade-offs and synergies vary by agroecological condition, historical land-use, and current production systems in a location.
The potential for synergies is particularly high for adopting improved crop varieties, changing crop rotations to incorporate food-producing cover crops and legumes, adopting precision fertilizer management, and expansion of agroforestry and soil and water conservation techniques that do not take significant amounts of land out of food production.
Trade-offs are more likely when mitigation options take land out of production, either temporarily or permanently. For instance, restoration of degraded lands often requires that land not be used for production, at least in the short-term, whereas avoiding draining or restoring wetlands would directly take land out of production permanently. Trade-offs may also be important for certain stocking rates and rotational grazing practices.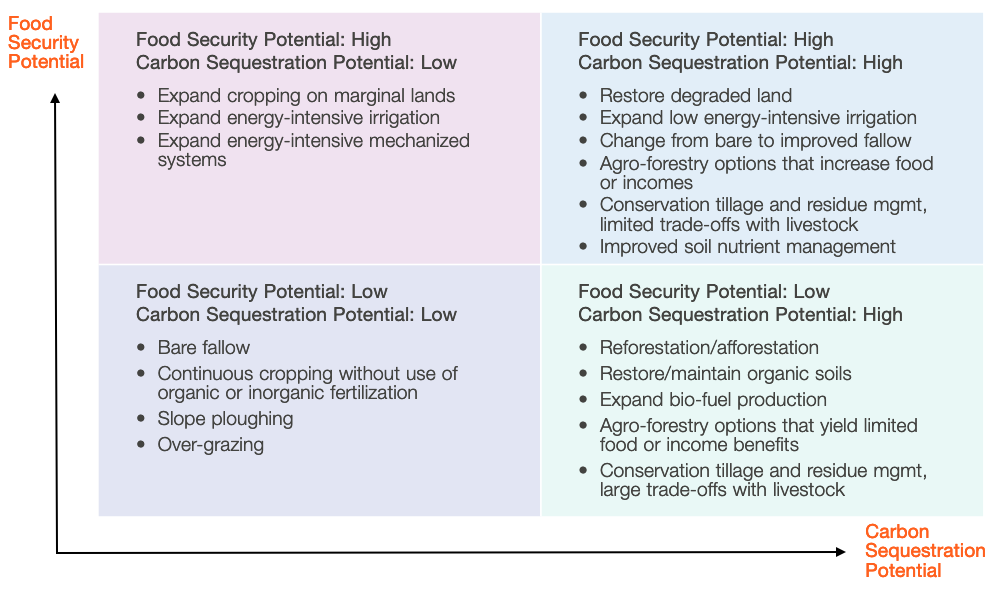 Source: Examples of Potential Synergies and Trade-Offs (FAO 2009)
Yes. Our diet and food choices have a significant impact on our carbon footprint. Food production is the main source of GHG emissions in the agriculture value chain driven by consumption demands and patterns. Therefore, increasing the efficiency of food production systems may not be enough to reduce GHG emissions from agriculture if we do not change some diet patterns, especially meat-based diets that include high emitting livestock. The weight of this dietary behavior shift lies in high-income countries whose citizens can afford alternative and varied protein sources. Animal-based foods are generally the most important contributors to resource use and dietary GHG emissions. Replacing meat and dairy products with plant-based foods can significantly reduce GHG emissions from the agriculture sector. Specific interventions include:
Leveraging existing food and resource security policies to reduce meat production and imports and promote alternative proteins,
Promoting public health policies that incentivize healthy diets and levels of protein intake, and
Reducing future demand for meat products and decreasing per capita meat consumption through media and outreach campaigns.
Policy, Finance & Other Incentives
In the first round of nationally determined contributions (NDCs) (2015) to the UNFCCC, 128 countries included agriculture in an economy-wide GHG emissions target in their NDC. None of the largest agricultural emitters (e.g., India ) included sector-specific contributions from the agriculture sector in their NDCs, but most included agriculture in their economy-wide targets. Agricultural mitigation policies and measures of 59 countries' NDCs typically focused on cropland management, livestock management, and grazing land management. Current emission reduction targets for agriculture may not be enough to meet the 2˚C or 1.5˚C goal. Meeting the Paris Agreement 2°C goal will require global mitigation of agricultural non-CO2 emissions of approximately 1 GtCO2e yr-1 by 2030. Meeting the goal of a 1 GtCO2e yr-1 reduction will require countries to be ambitious in selecting their mitigation targets for agriculture. Learn more from this review of the second round of NDCs submitted in 2021.
Source: Agriculture's prominence in the INDCs: data and maps (Richards M, et al. 2016)
There is a range of policy options currently available at the global, regional, and national levels. Under the UNFCCC (e.g., Nationally Determined Contributions), policies guide climate action in agriculture and allied sectors at the regional and national levels. These policies set the GHG mitigation targets and encourage implementing mitigation actions at the national and sub-national levels supported by technology, financing, and capacity building.
A range of domestic policies is designed to reduce GHG emissions from agriculture and enhance the role of agriculture in GHG mitigation in global and national policies and strategies. Many countries have their own domestic GHG mitigation policies independent of UNFCCC and other global policies and negotiations. They include performance standards, technology standards, incentivizing best-practice measures, subsidies, carbon tax, emission trading and public support for mitigation research.
There are several climate financing sources available for investment in the agriculture sector. These sources include multilateral funds under the UNFCCC framework, such as the Green Climate Fund (GCF), and the Global Environment Facility (GEF). Other available sources outside the UNFCCC framework are bilateral and multilateral funds and commercial and private finance.
Current funding sources include:
Government budgets (public capital);
Public financial intermediaries, such as bilateral aid agencies, climate funds, and multilateral, bilateral, and national development finance institutions,
Private financial intermediaries, such as commercial financial institutions, private equity, venture capital, infrastructure funds, and institutional investors; and
Private domestic and multinational companies, and project developers (private capital).